NZ Owned and Family Operated for over 50 years
Woottons Auto Accessories has been operating as a family business for over 45 years.
Starting in a small shop on the Royal Oak roundabout, then moving to a larger store on Manukau Rd, Woottons then moved again into a larger store in Onehunga Mall Rd.  A second store then opened in New Lynn, where we are situated now.  We have specialized in Automotive Car Accessories and Hard Parts and now for over 15 years in Motor Scooters too.  We are 100% New Zealand owned!
We have a specialist workshop on site for Motor Scooters and can service small quads and pit bikes too.  We have a full range of scooter parts on site, and if we don't have it we can usually get it in for you.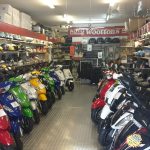 We Specialise In
Scooter Parts and Accessories
Car Parts and Accessories
Helmets, Jackets and Gloves
Scooter/Automotive/Truck Batteries
Scooter Tyres
Scooter Insurance Quotes
Custom Ute Mat sets and Seat Covers