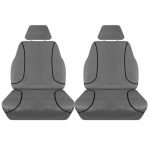 These custom seat covers are great for heavy duty use, they have a 5 year warranty and fit most UTES.
Holden, Ford, Toyota, Mazda, Isuzu, Nissan, Mitsubishi etc
Sold in either a front set or a full set.  Machine washable too.
Price from $239.00 a pair or $445.00 a set of front and rear.
Easy to care for Charcoal colour.